Premier Generac Generator Installers
Stay Charged 24/7

Generac Generator Installation Service
Looking for Generac generator installers near Central Florida? Get the power uninterrupted experience with PES Solar – Florida's #1 Generac home generator installers.
Secure Your Backup Power Now
Invest in the future. Invest in uninterrupted power. Request your free, no-obligation quote today and join the thousands who've chosen reliability with PES Solar's Generac Generator Installation.
Uninterrupted power supply during outages
Peace of mind during storms and emergencies
Immediate automatic power response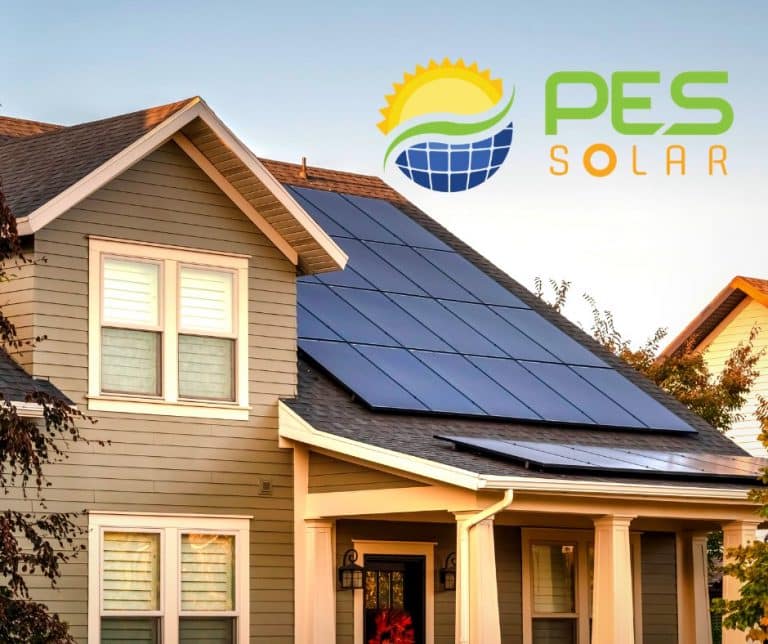 Ready To Go Solar?
Fill out the form below and we'll reach out to schedule your consultation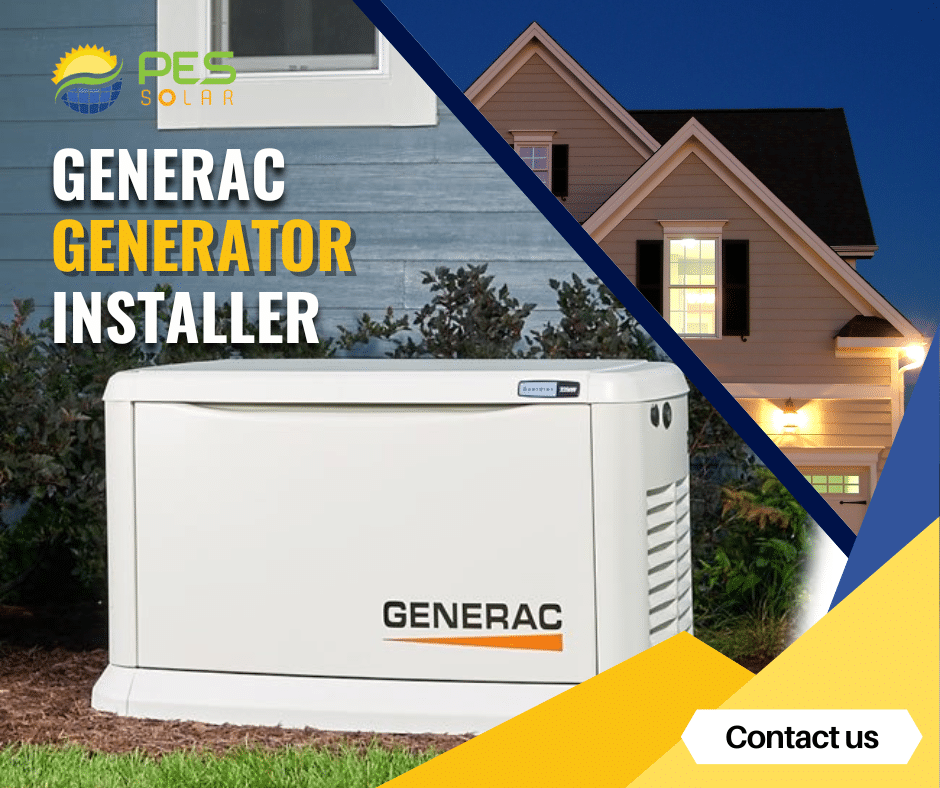 Why Every Home and Business Needs a Backup Generator
The Problem
The Modern Necessity of Uninterrupted Power
Power is no longer a luxury—it's a necessity. As our homes evolve into offices, schools, gyms, and sanctuaries, ensuring efficient and continuous backup power becomes paramount. With PES Solar's Generac service, you can rest assured that your power needs are met.
Don't Wait for the Next Outage: Secure Uninterrupted Power with Generac and PES Solar
Think about all those moments when power outages caught you off guard. Food spoiling in the refrigerator, critical business operations coming to a halt, heating or cooling systems failing, and the simple loss of the everyday conveniences we often take for granted.
The reality is, with the increasing frequency of power outages, especially in Florida, it's not just about comfort but also about security and business continuity.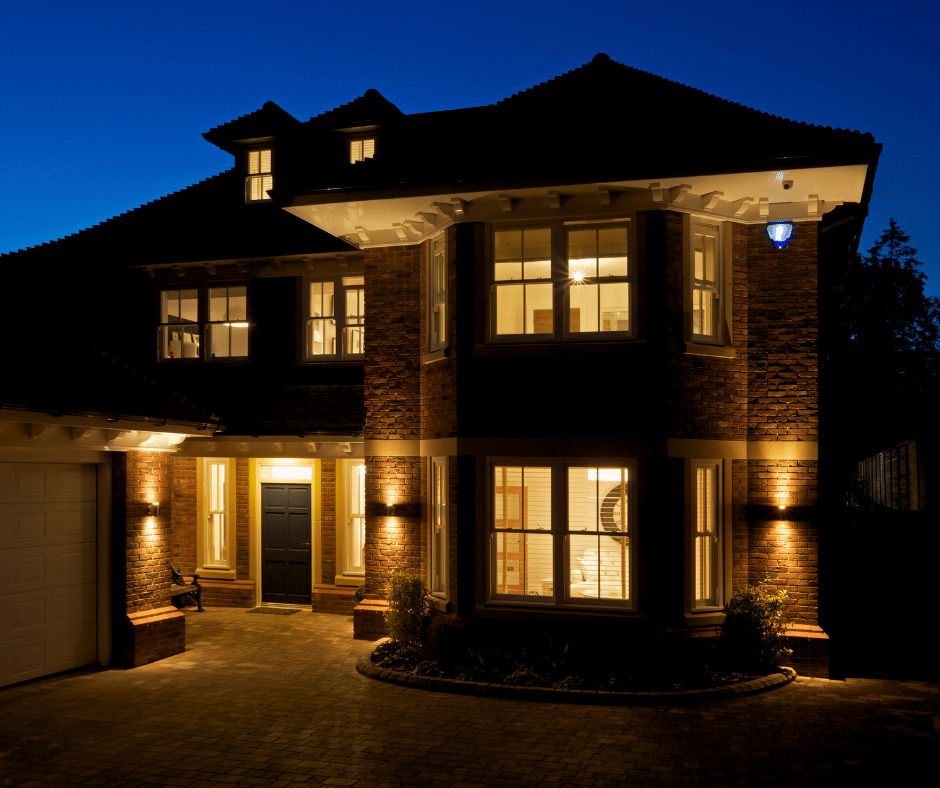 The Solution: 24/7 Access to Power with a Home Backup Generator
This is where PES Solar steps in as your trusted Generac Generator installer. Designed to detect power outage and kick into action within seconds, Generac generators stand guard around the clock, ensuring your home or business remains powered, regardless of external factors.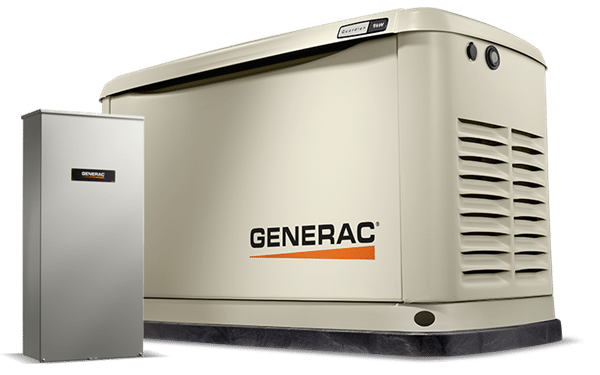 Why Every Home Needs a Generac Generator
Uninterrupted Power, Uninterrupted Life: Make Generac Your Must-Have
No More Power Loss
Storms or grid failures can unexpectedly disrupt our lives. Ensure continuous power with the best Generac dealer near you.
Automatic Generator Activation
Whether you're at home or away, the whole house generator springs into action, offering a seamless power transition.
System Detection
Once installed, it intelligently detects power outages within seconds, preparing to restore your home or business's electricity.
Effortless Power Restoration
With the automatic transfer switch, your premises are powered by the whole house generator until the utility power returns.
Certified Generac Generator Installer
We are authorized Generac dealers and guarantee to provide the most reliable Generac generators available.
Safety for Your Family
Owning a generator ensures safety, providing continuous power to critical systems and lighting during unexpected outages.
Generac Generator

Specifications & Features
Trusted Across the Globe
Generac isn't just a brand; it's a promise of unparalleled reliability. As the most trusted Generac dealer in Florida, PES Solar brings you closer to this promise.
New 26 kW Guardian® Series
Crafted with precision and futuristic technology, this home standby generator promises backup power and peace of mind with a whole house transfer switch.
Our local Generac generator installers have streamlined the buying process, ensuring you make an informed decision tailor-made for your needs with a free estimate.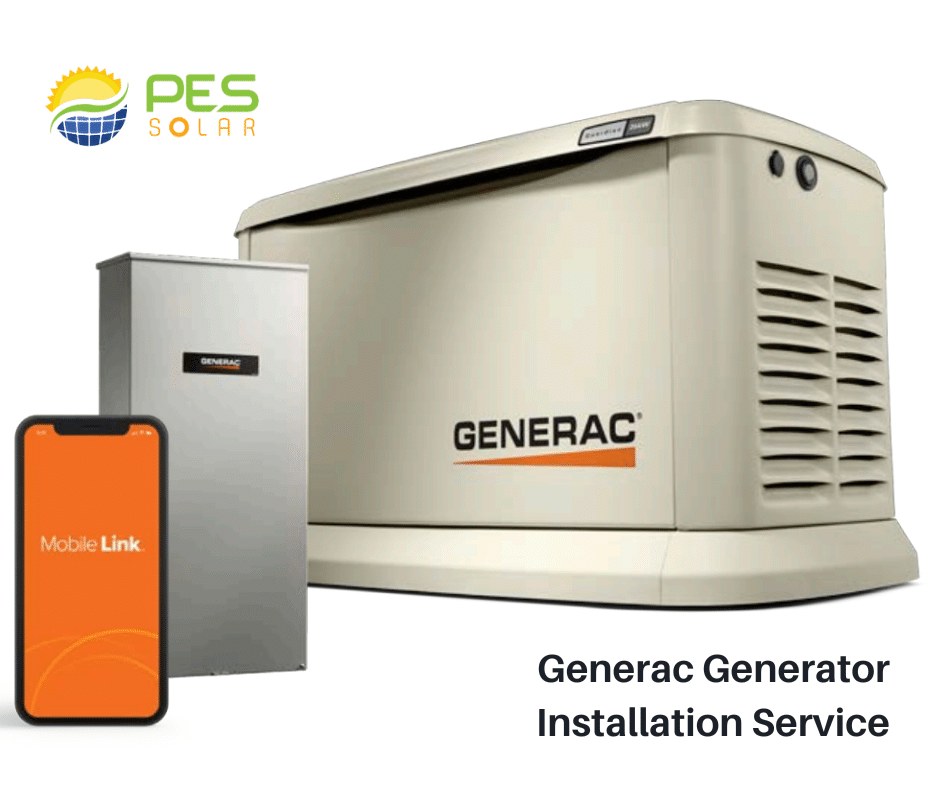 Why Choose PES Solar as

Your Generator Installer?
As Generac generator-certified installers, PES Solar offers top-notch solutions to answer and resolve your power needs.
Expert Consultation with Free Estimate
Before making a significant investment like this, consult the best Generac home generator installer. With PES Solar, you're partnering with experience and expertise.
Customized Solutions
We don't believe in one-size-fits-all. Our local Generac generator installers provide expert assessments to your needs and recommend the perfect fit.
Affordable and Transparent Pricing
Are you wondering about the Generac generator installer cost? With PES Solar, you get detailed, competitive quotes, ensuring value for every dollar spent.
Local Expertise
As local Generac generator installers, we understand the specific needs and challenges faced by homeowners and businesses in Florida.
Certified Installation
Our team of certified Generac installers ensures a seamless and efficient installation process tailored to your unique requirements and needs.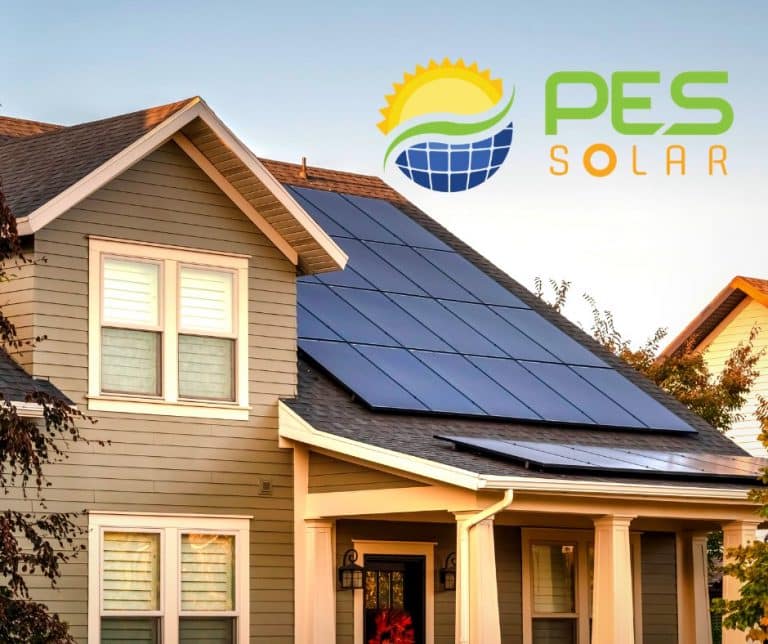 Ready To Go Solar?
Fill out the form below and we'll reach out to schedule your consultation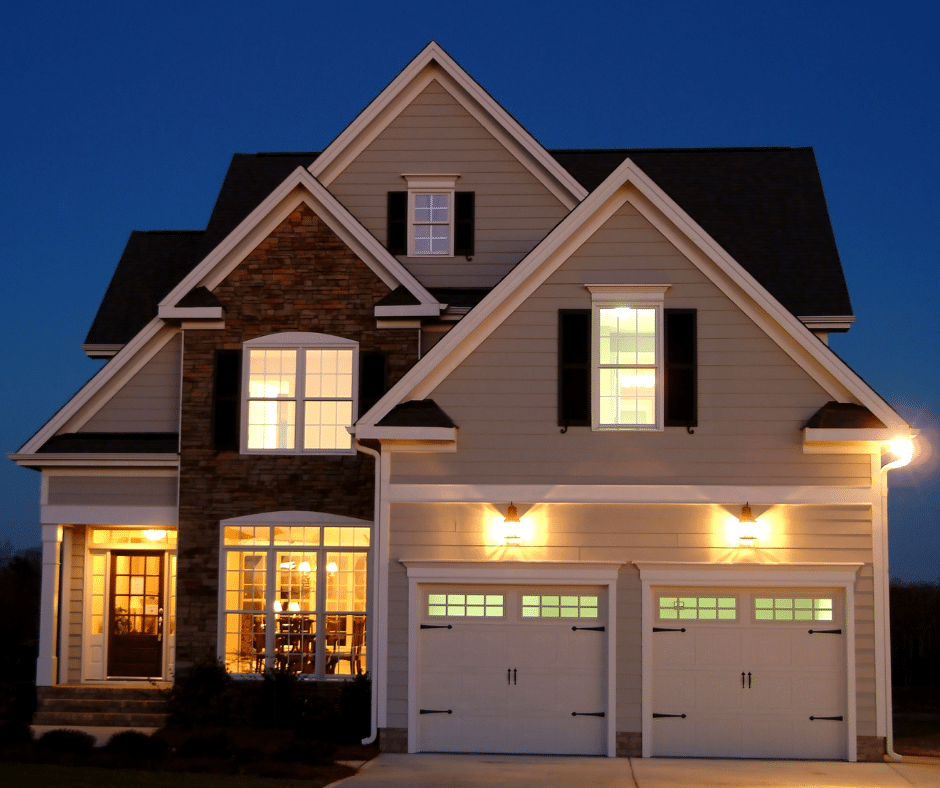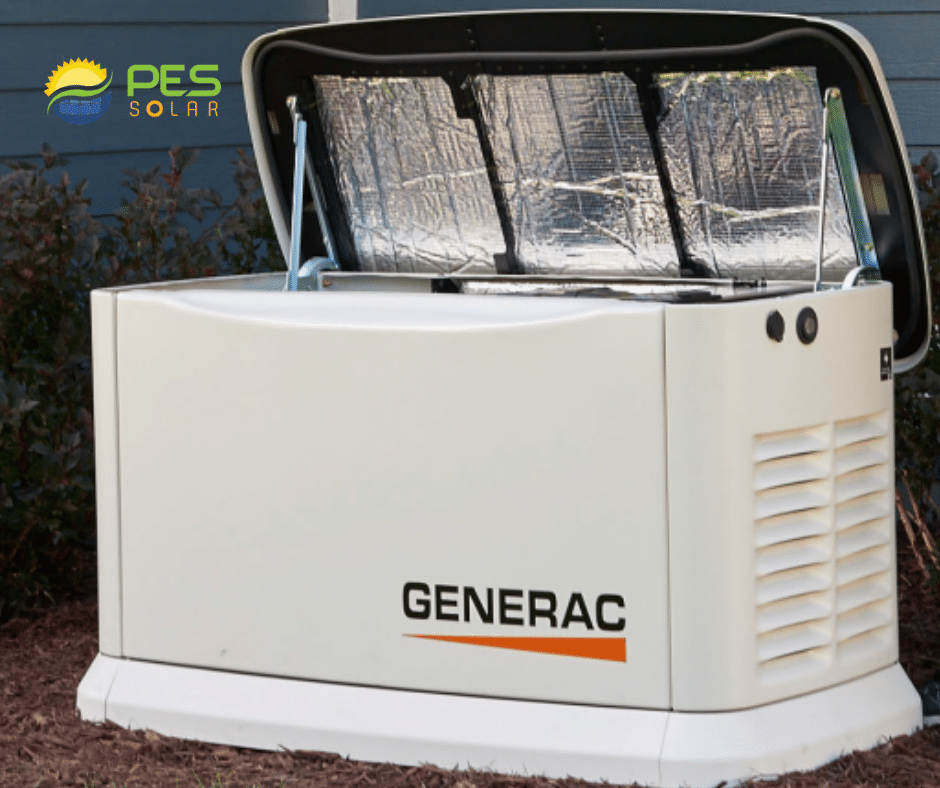 Home Backup Generator Sizing Guide
Having a whole house generator rated with 10 kilowatts is recommended for homeowners. If you want to power additional appliances, such as a central air conditioner or electric stove, you will need a larger generator. A 15 kW or 20 kW generator should be sufficient for most homes.
Here is a table of recommended whole house generator sizes for different home sizes:
| | |
| --- | --- |
| Home size (sq ft) | |
| 1000-1500 | 6-8.5 |
| 1500-2000 | 8.5-10 |
| 2000-2500 | 10-14 |
| 2500-3000 | 14-18 |
| 3000+ | 18+ |
The best way to choose the right size generator is to consult with qualified electricians or certified Generac generator dealers. PES Solar can help you assess your specific needs and recommend the right generator for your home.
Control Your Power with PES Solar
For those searching for "authorized Generac dealers near me" or "Generac home generator installer near me," your quest ends here. Trust PES Solar, the premier Generac Generator Installer in Florida, to light up your world, come rain or shine.
If you have any questions or want to find a dealer near your location, get a FREE ESTIMATE with our Generac generator service. Call us and learn why every homeowner needs a home backup generator.
Want More Savings? Try Solar Panels
Explore our other energy-saving solutions for you:
Generac Generator Installers Service
Find a dealer near your location. We offer Generac generator installation services in the following locations:
Central Florida
Seminole County

Sumter County

Lake County

Marion County

Orange County

Volusia County

Citrus County

Hernando County

Levy County

Pasco County

Flagler County

Polk County

Osceola County

Brevard County

Indian River County
West Palm
Miami-Dade County

Broward County

Okeechobee County

St. Lucie County

Martin County
Tampa
Hillsborough County

Sarasota County

Lee County

Hendry County

Manatee County

Collier County

Hardee County

Highlands County

Charlotte County

Glades County

Pinellas County

DeSoto County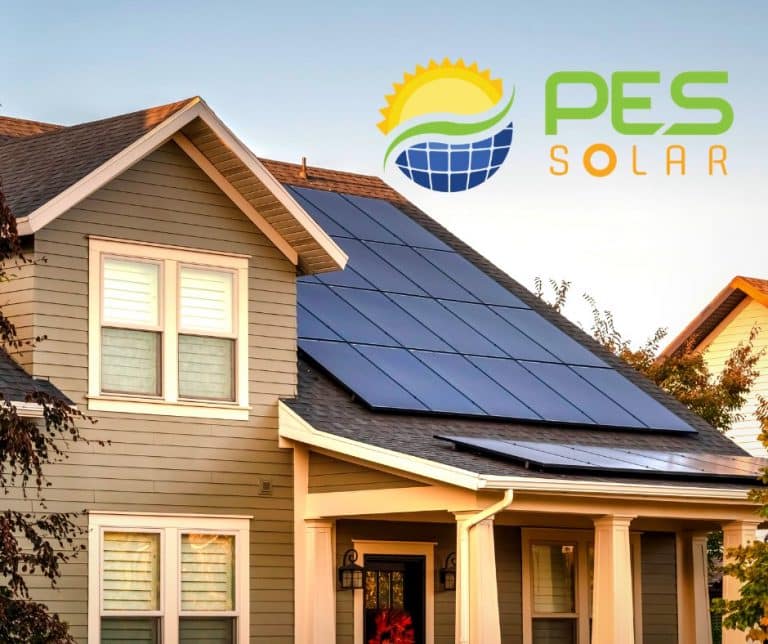 Ready To Go Solar?
Fill out the form below and we'll reach out to schedule your consultation
Home Backup Generators

vs Portable Generators
Home Backup Generators: The Superior Choice for Backup Power Continuity
Integrated like central air, providing seamless protection for your home.
Ensures immediate response during a power outage; works even if you're not home.
A seamless connection to your home's electrical system, eliminating manual interventions.
Hassle-free with natural gas or propane connections, requiring no manual refueling.
A home backup generator provides robust backup power, suitable for the entire house, without the need for frequent refueling.
Advanced features like Mobile Link™ allow for home backup generator monitoring from anywhere globally, ensuring peace of mind.
Portable Generators: An Option with Limitations
Best for temporary solutions like camping, job sites, or recreational activities.
Requires you to be home during a power outage for manual initiation.
Manual connection processes, including transfer switches or extension cords.
Manual refueling every 6-12 hours based on consumption and tank size.
Limited capacity, powers only selected appliances.
Demands in-person supervision for effective operation.
Home Backup Generator vs Portable Generator: Which is Better?
For a worry-free, comprehensive power solution, especially during power outage, home backup generator from our Generac Generator installation service are superior to portable generators.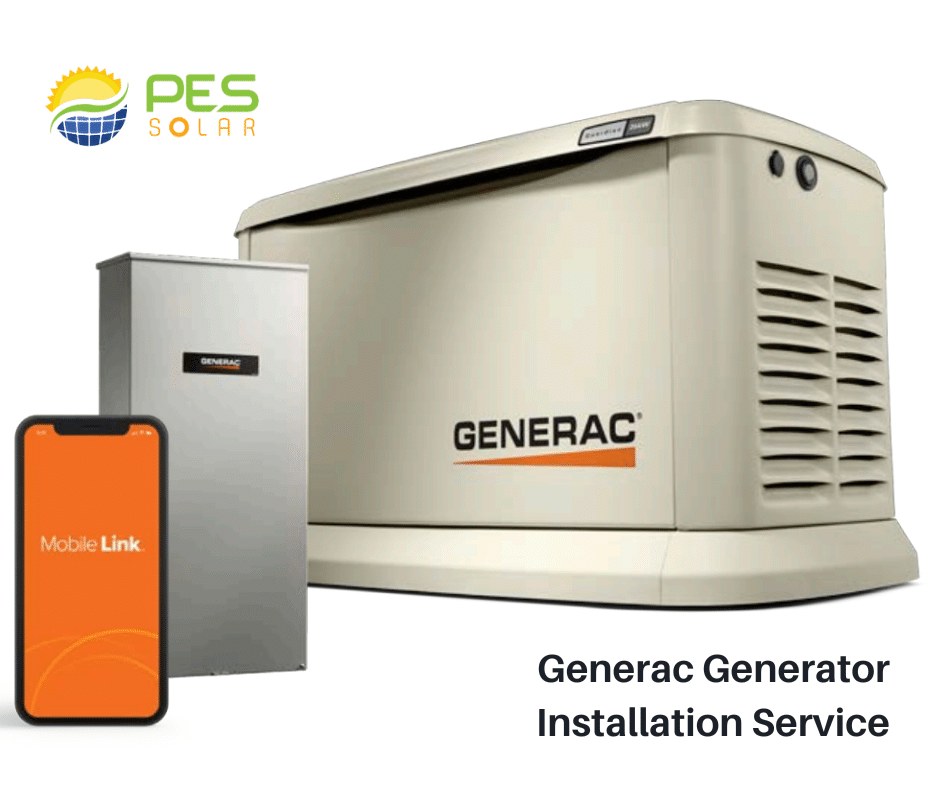 FAQs
How much does it cost to have a Generac generator installed?
Generac home backup generators installation costs vary from $2,000 to $20,000, with higher power generation resulting in higher assembly costs.
Who can install a Generac generator?
Only authorized home backup generators and Generac dealers can install generators. If you need Generac whole house generator dealers near Central Florida, contact PES Solar to get a free quote.
How many hours will a Generac generator last?
Generac standby generators can run continuously for over 500 hours and provide up to three months of usage at maximum power.
What size Generac generator do I need for a 2000 square foot home?
Get 6kW – 10 Kw residential generators. The size of the right generator you need for a 2000-square-foot home will depend on your specific needs. However, a good rule of thumb is to choose a whole house generator that is rated for at least 10 kilowatts (kW). This will be enough to power the essential appliances.
How many years does a Generac generator last?
A Generac generator can last 20-30 years or even longer with proper maintenance. The Generac Backup Generator is expected to last up to 6000 hours of operation.
Who can work on my Generac generator?
Only authorized Generac dealers like PES Solar should work on your Generac generator. They have the training and experience to properly diagnose and repair any problems your generator may have. Click here to locate a service provider near you.
How often should my Generac generator be serviced?
Generac generators should be serviced every 6 months or 100 hours of operation, whichever comes first. This includes changing the oil, air filter, and spark plugs. Get a free estimate today.
Can I service my Generac generator myself?
It is not recommended to repair your generator by yourself. Doing so might void your warranty or worsen the problem. You should take it to an authorized Generac dealer like PES Solar to fix the issue.
Do you need to be certified to install a Generac generator?
It is always best to have a qualified electrician install your generator. PES Solar can ensure that it is installed correctly and safely.
Where to find house Generac generator installers near me?
You can find Generac generator installers near you by using the Generac dealer locator. You can also talk to the best Generac generator installer – PES Solar, at (800) 650-6519.
Where to buy a generator near Central Florida?
You can find Generac generators for sale at authorized Generac dealers in Central Florida. You can check out PES Solar here to get a free quote for your home.
How far does a generac generator need to be from the house?
Generac generators should be installed at least 5 feet from the house.
Where to get a free estimate for a whole house generator?
PES Solar is an authorized Generac dealer. We offer a wide variety of Generac whole house generator, as well as installation and service. We are committed to providing our customers with the highest quality products and services. Contact us today for a free estimate.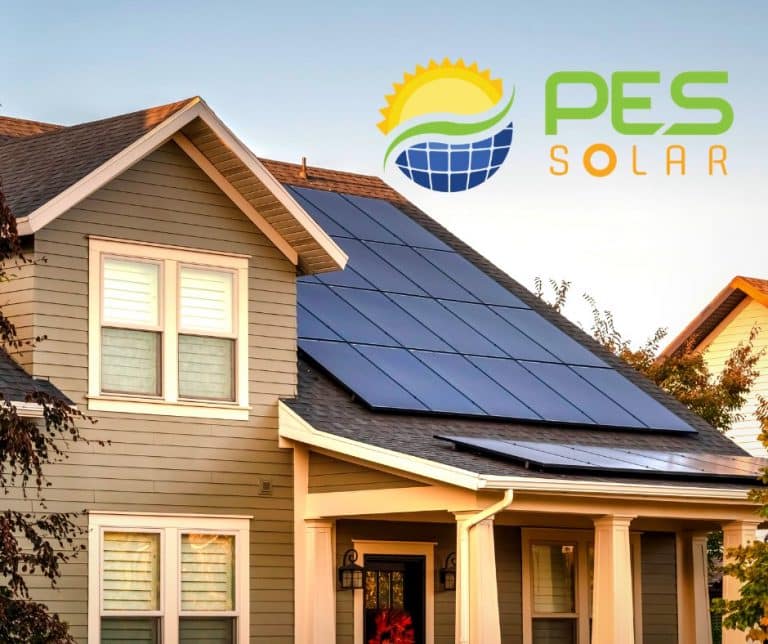 Ready To Go Solar?
Fill out the form below and we'll reach out to schedule your consultation